By Nick Gasparro, Operations Assistant CVEATC
Chula Vista, CA – The U.S. Under-15 Girls National Team (U-15 USGNT) will be partaking in a week-long training camp at the Chula Vista Elite Athlete Training Center (CVEATC) from March 21-28. The U-15 USGNT will be training, dining and staying overnight during their time on campus. The CVEATC is thrilled to welcome back the USGNT, as they are frequent visitors to our training facility.
The team is currently preparing for the 2022 CONCACAF Girls Under-15 Championship in the summer. This is the second training camp for head coach Katie Schoepfer since she was appointed the position back in November of 2021. Players born on or after Jan 1, 2007 are eligible to participate in the training camp. The roster consists of 35 players born in 2007 and one in 2008. A total of twenty-six youth clubs are represented in this training camp from 18 different states, including Texas (seven) and California (six).
To learn more about the U-15 USGNT roster at the CVEATC, please follow the link bellow.
Meet Katie Schoepfer: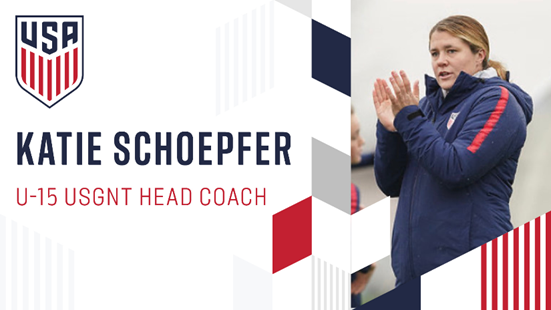 Before becoming a head coach, Katie Schoepfer played for the USWNT at the U-17 to U-23 level, and started all four years for Penn State University as a forward. During her time at Penn State, Schoepfer scored 48 goals and earned two All-American honors. In her professional career, the Penn State alumna made 100 appearances for the Boston Breakers, which is third most in club history. Following her seven-year playing career, Schoepfer spent the same amount of time coaching youth clubs in Massachusetts in various positions. Most recently, Schoepfer served as an assistant coach with the U-17 and U-20 U.S. Women's National Teams as well as the U-16 USGNT. The Connecticut native was inducted into the Connecticut Soccer Hall of Fame in 2019.
To learn more about the possibility of training at the CVEATC or hosting your own group events, visit our website at trainatchulavista.com