By Nick Gasparro, Operations Assistant CVEATC
Chula Vista, CA – The Discus and Shot-Put throwers of the Swedish Athletics Federation will be partaking in a 3-week training camp at the Chula Vista Elite Athlete Training Center (CVEATC) during the month of April. An additional three athletes from Norway (2) and Great Britain (1) will also be joining the training camp. During their stay at the CVEATC, the Elite Athletes will be training on our throwing fields and gym, dining and competing in two Track & Field meets, the CVEATC Elite Discus Invitational and UC San Diego's Triton Invitational, as they continue their preparation for the 2022 World Athletics Championship in Eugene, Oregon. In total, eight athletes will be participating in the training camp at the CVEATC, as we are delighted to welcome the Swedish Athletic Federation back to campus.
The 5 Swedish athletes attending the training camp at the CVEATC are: Daniel Stahl (Tokyo Olympics Gold Medalist), Simon Pettersson (Tokyo Olympics Silver Medalist), Fanny Roos, Vanessa Kamga and Ragnar Carlsson. The two athletes from Norway are Shot Putter Marcus Thomsen and Discus Thrower Sven Martin Skagestad, while Great Britain will be sending discus thrower Nicholas Percy. The first Track & Field meet that the athletes competed in was our very own The CVEATC Elite Discus Invitational on April 7th. Five out of the eight athletes competed in this meet. Tokyo Gold Medalist Daniel Stahl set a new world lead (longest throw of the season) with a 69.11m throw in the Men's Discus Final. Meanwhile, fellow countryman Simon Petterson came in 3rd with a 65.02 throw. Nicholas Percy and Sven Martin Skagestad came in at 7th and 10th respectively. Vanessa Kamga came in at 5th with a 56.41m throw in the Women's Final.
Next up for the Elite Athletes was UC San Diego's feature meet, The Triton Invitational, which took place April 8-9. Four athletes participated in the Men's Discus Throw Event, with Daniel Stahl coming in first with a throw of 68.44m. Simon Pettersson placed 4th with a 64.21m throw, meanwhile, Great Britain's Nick Percy and Norway's Sven Martin Skagestad came in at 6th and 7th. On the women's side, Vanessa Kamga finished 11th with a 51.89m Discus throw. In the Women's Shot-Put Event, Fanny Roos finished in 1st place with a 18.99 meter throw, meanwhile, Marcus Thomsen also finished 1st in the men's event with a 20.17m throw. The CVEATC is delighted to hear that the Swedish Athletics Federation and their guest athletes enjoyed their time in Chula Vista, as we would like to wish them the best of luck in their preparations for the 2022 World Athletics Championships in July.
To learn more about the Swedish Athletics Federation, please follow the link below:
Player Profile: Daniel Stahl
Hometown: Solna, Sweden
Born: 27 August 1992
Height: 6' 7"
Weight: 342 lbs.
Event: Discus Throw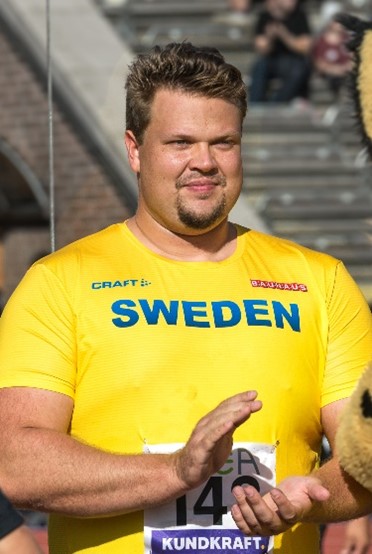 Daniel Stahl is a two-time Olympian who specializes in the Discus Throw. He is best known for winning the Gold Medal at the 2020 Tokyo Summer Olympics with a discus throw of 69.19m. Prior to his Gold Medal victory, Stahl competed in the 2015 World Championship in Beijing and the 2016 European Championship, finishing 5th in both meets. Stahl went on to compete in the 2016 Swedish Championship, where he set a new world lead discus throw of 68.72m, which remained the number one throw in all of 2016. The following year at the 2017 Swedish Championship, Stahl managed a 71.29m discus throw, setting a new Swedish record and was the farthest discuss throw since 2013. You can watch Daniel Stahl compete at the 2022 World Athletics Championships in Eugen, Oregon on July 15-24.
About the Chula Vista Elite Athlete Training Center
The Chula Vista Elite Athlete Training Center opened in 1995 and sits on 155 acres in Chula Vista, San Diego County, with world class athletic facilities, housing and dining. An official United States Olympic and Paralympic Site, utilized by athletes who live, train and eat on campus 365 days a year. The training camps, clinics, events and resident programs include over 20 Olympic, Paralympic and emerging sports across all elite levels. Go to trainatchulavista.com to learn more and train where making dreams come true is our passion! Follow us Facebook, Instagram and Twitter.
Media Inquiries, please call (619) 656-1500 or email Info@trainatchulavista.com