By Nick Gasparro, Operations Assistant CVEATC
Chula Vista, CA – The City of Chula Vista's free firework show is returning this Fourth of July to the Chula Vista Elite Athlete Training Center (CVEATC) after a two-year hiatus due to the Covid-19 Pandemic. Join us as gates to the Chula Vista 4th Fest will open at 7 p.m. with the firework show beginning at 9 p.m. set to a custom soundtrack that can be heard on multiple iHeart Radio stations throughout San Diego County. Attendees may park at the Visitor Entrance parking lot upon arrival and make their way over to the Visitor Center Courtyard to enjoy the Fireworks around our Olympic Torch. The event is free, open to the public, and all ages. The Chula Vista 4th Fest is being provided by the City, CVEATC, and iHeart Radio partners.
The Following are not allowed on CVEATC premises
alcohol / tobacco
drones
animals
skateboards
pop-up tents / canopies
umbrellas
The CVEATC can accommodate up to 5,000 guests, and 400 parking spaces for the event. Additional parking will also be made available next door at New Hope Church for up to 300 vehicles (2720 Olympic Parkway) for free. Attendees are allowed to bring blankets, portable chairs, and snacks. Several food trucks will be available on site for food purchases. Spectators can also watch the fireworks from nearby Mountain Hawk Park (1475 Lake Crest Drive). Please be aware that park rules include no charcoal grills, no glass bottles, or tents. Overnight parking is not permitted at any location.
We hope to see you all Monday, July 4 at the CVEATC, as we are looking forward to celebrating our countries independence together as a community for the first time in two years.
To learn more about the Chula Vista 4th Fest, please click on the link below: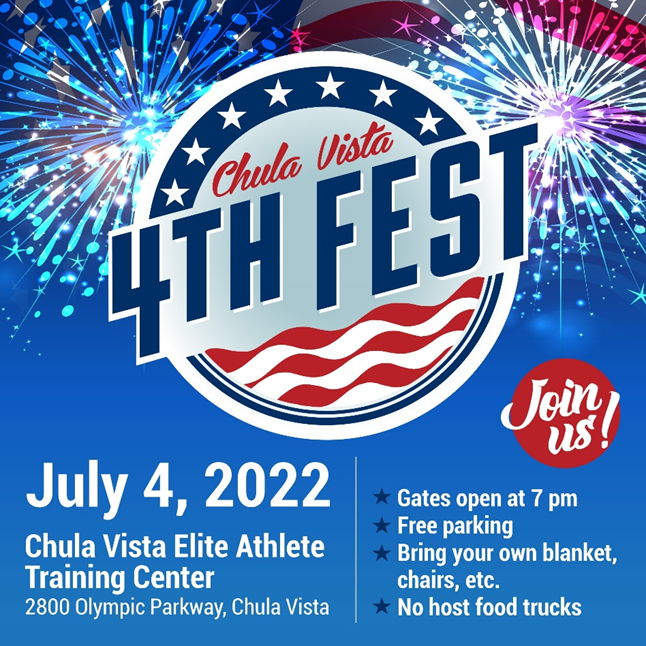 About the Chula Vista Elite Athlete Training Center
The Chula Vista Elite Athlete Training Center, an Olympic and Paralympic Training Site, is set on 155 acres on south San Diego County. It is home to over 20 sports with teams and athletes across Olympic, Paralympic, professional, collegiate, and international countries. To learn more about training or groups events, visit trainatchulavista.com