By Nick Gasparro, Operations Assistant CVEATC
Chula Vista, CA – The Chula Vista Elite Athlete Training Center (CVEATC) is excited to welcome the U.S. Women's Beach Soccer National Team (USWBSNT) to campus. USWBSNT head coach Morgan Church selected 21 players for this training camp, which will run through August 5-12. The women are currently preparing for the 2022 ANOC World Beach Qualifiers, which will take place in Catania, Italy. During their stay at the CVEATC, the team will be training on our state-of-the-art beach volleyball courts and gym, staying overnight and using our dining services. This is the second time in 2022 that the U.S. Beach Soccer National Team's will be training at CVEATC, with the men coming for the first time back in April.
The USWBSNT have been around for three short years, playing their first game versus Mexico on August 3, 2019 at the 2019 ANOC World Beach Games Qualifiers, losing 1-2. The Americans went on to win their next two matches versus El Salvador (9-6) and Bahamas (7-1). Mexico ended up taking the lone qualifying spot for the ANOC World Beach Games, however, due to China dropping out of the competition, the Americans were able to compete in the tournament. Out of the three matches played, the team only managed a single victory, defeating Paraguay 3-2, and did not qualify to the knockout stages.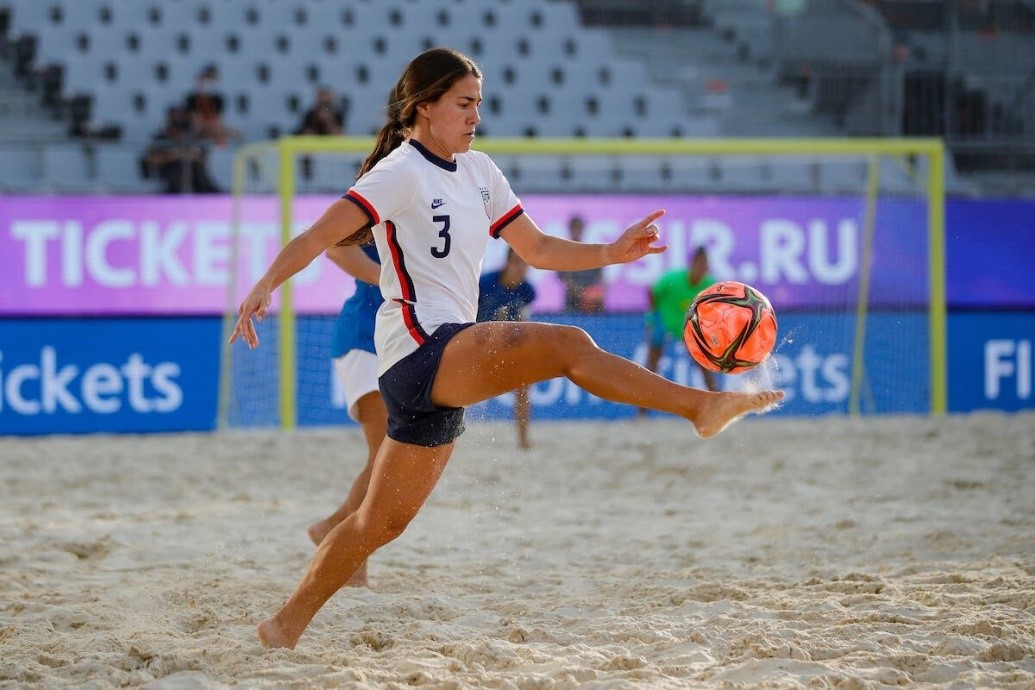 Due to the global COVID-19 pandemic, the sport of Women's Beach Soccer paused for two years. After the 2019 ANOC World Beach Games, the USWBSNT did not play another game until August 13, 2021 when they took on Russia in the 2021 Women's Intercontinental Beach Soccer Cup. The team fought hard in their first tournament in over two years, but found it difficult to get a victory as they lost to powerhouses Russia (1-2) in overtime, Brazil (3-5) after taking a 3-0 lead, and Spain (2-4).
Since then, the USWBSNT competed in the 2022 Women's El Salvador Beach Soccer Cup, where they turned it around to say the least. This time, the Americans won every game they played in, defeating host nation El Salvador (3-1), Bahamas (5-2) and Argentina (4-2).
The Chula Vista Elite Athlete Training Center is excited to welcome the U.S. Women's Beach Soccer National Team to campus for the very first time, and wish them the best of luck as they continue their preparation for the 2022 Women's ANOC World Beach Game Qualifier.
To learn more about the U.S. Women's Beach Soccer National Team, please follow the link below:
U.S. Women's Beach Soccer National Team
(Pictures provided by U.S. Soccer)