By Nick Gasparro, Operations Assistant CVEATC
Chula Vista, CA – The Chula Vista Elite Athlete Training Center (CVEATC) hosted a team selection camp for the U.S. Association of Blind Athletes (USABA) on October 27-30. 13 players with visual impairments and three sighted goalkeepers will be competing for a spot on the first ever USA Blind Soccer National Team. During their time at the CVEATC, USABA will be training on our soccer fields and sport therapy building, staying overnight and using our dining services. This is the first time USABA has trained at the CVEATC, and we are excited to have them here.
USABA held two talent identification selection camps earlier in the year in order to get to the current pool of players training at the CVEATC. Out of the 16 athletes, ten will make the cut and form the U.S. team that will begin international competition in 2023, the first step in the process of competing at the Los Angeles 2028 Paralympic Games.
"By naming this first-ever national team, it allows USABA to continue building blind soccer across the country," said USABA CEO Molly Quinn. "Having elite-level athletes in the sport provides engagement and empowerment opportunities for both youth and adults."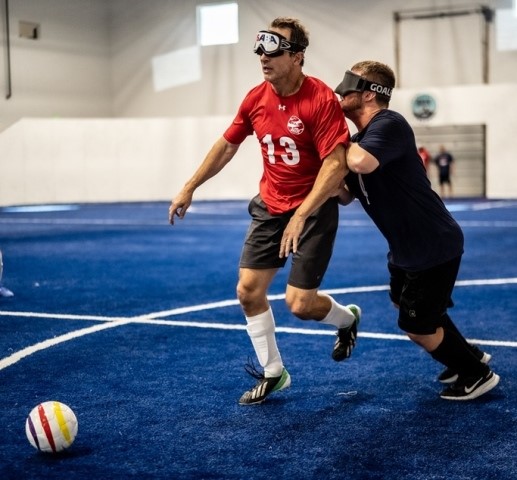 The sport of blind soccer has been part of the Paralympic Games since 2004, unfortunately, the U.S. has never fielded a team. That will change in 2028, when the City of Los Angeles will play host to the Olympic and Paralympic Games and the U.S. will receive an automatic bid into the blind soccer competition as the host nation.
Leading the camp at the CVEATC will be USA Blind Soccer Head Coach Katie Smith, along with assistant coaches Fil Wilkinson and Ryan Lazaroe.
"There is such incredible talent within this group and as coaches," Coach Smith said, "we look forward to seeing the progression the athletes have made since our last camp. With our experienced coaching staff, we are excited to assess the talent level and build camaraderie within this first-ever USA Blind Soccer Men's National Team."
The four-day camp will also include two scrimmages on Friday and Saturday which will be held from 4-5pm at the Salt Creek Community Park Soccer Arena. The scrimmages will be overseen by international referees Skye Arthur-Banning and Margaret Domka.
The CVEATC would like to wish the USA Blind Soccer National Team the best of luck as they begin international play in 2023, and continue the process of competing at the 2028 Los Angeles Paralympic Games.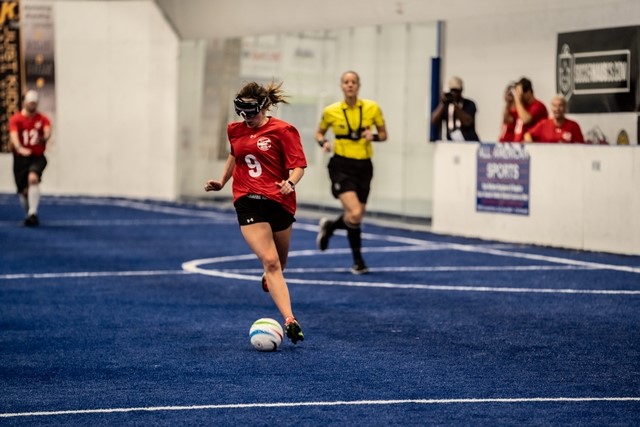 (quotes and pictures provided by: USABA.org)
USA Blind Soccer Men's National Team Selection Camp Roster
Players
Noah Beckman (Columbus, Ohio)
David Brown (Chula Vista, Calif.)
Kevin Brown (Falls Church, Va.)
Ricardo Castaneda (Fort Worth, Texas)
Charles Catherine (Brooklyn, N.Y.)
Antoine Craig (Richmond, Va.)
Tanner Gers (Tucson, Ariz.)
Cody Kirchner (New Brunswick, N.J.)
John Marquez (Fort Worth, Texas)
Alvaro Mora (Phoenix, Ariz.)
Jefferson Palacios (Baltimore, Md.)
Ahmed Shareef (Staten Island, N.Y.)
Casimir Werda (Novi, Mich.)
Goalkeepers
Brandt Herron (Jacksonville, Fla.)
Kyle Knott (Brevard, N.C.)
Elijah Tejeda (San Diego, Calif.)