By Nick Gasparro
Chula Vista, CA – Running is not just a sport; it's a testament to human resilience and determination. For individuals with lower limb amputations, running may seem like a distant dream, but the Ottobock Running Clinic 2023 at the Chula Vista Elite Athlete Training Center (CVEATC) is breaking down barriers and making dreams come true. From October 6th to 8th, this unique event, under the guidance of Paralympic gold-medalist Heinrich Popow and his dedicated team, is offering participants an extraordinary opportunity to learn or enhance their mobility and running skills over a two-day period. The clinic is not just about sport; it's about building confidence, forging connections, and leaving as friends.
An Inclusive Event:
The Ottobock Running Clinic welcomes leg prosthesis users of all running abilities, from beginners to experienced athletes. Participants will have access to certified orthopedic technicians who will provide sports prostheses for the duration of the clinic, ensuring that everyone can fully engage in the training.
What to Expect:
Fitting and Use of Sports Prosthesis: Upon arrival, participants receive a fitting and training on the use of Ottobock sports prostheses by experienced orthopedic technicians. This ensures that every attendee is equipped to participate.
Guidance from Paralympic Athlete Heinrich Popow: Paralympic Champion Heinrich Popow and his team lead the training sessions, offering valuable exercises and insights into wearing sports prostheses.
Optimal Training Conditions: The CVEATC provides the perfect setting for these athletic pursuits, offering state-of-the-art facilities to support participants.
Catering and Custom T-Shirts: The clinic offers a curated experience, including catering, and participants receive personalized clinic-branded T-shirts to commemorate their journey.
Accommodation: Room and board are available at the CVEATC, ensuring a convenient and comfortable stay for attendees.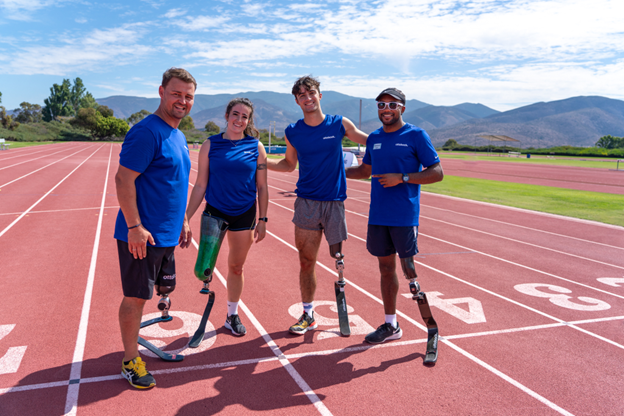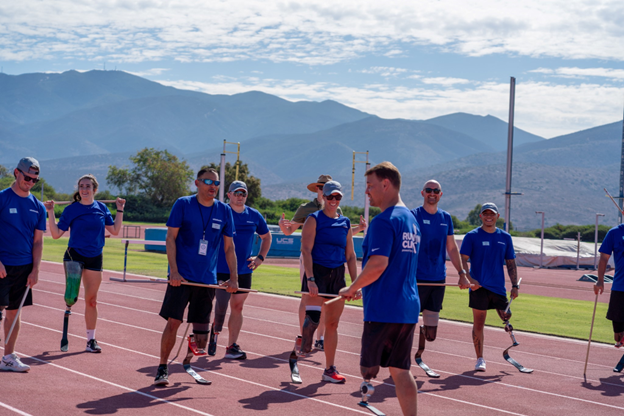 The Deeper Meaning:
The Ottobock Running Clinic goes beyond athletics; it's about empowerment and connection. Heinrich Popow's philosophy centers on the idea that every individual is unique, and acceptance begins with self-acceptance. This clinic is dedicated to creating a network among amputees, family members, friends, clinicians, and therapists. Communicating and forging bonds between exercises are equally as important as testing prostheses. The motto for the weekend is simple but profound: "Come as guests, leave as friends."
The Weekend in Action:
The clinic kicks off on a Friday afternoon, where lower limb amputees come together to either test sports prostheses or enhance their running techniques with their own equipment. The sense of liberation is often immediate, with participants expressing sentiments like "I don't want to take off my sports prosthesis" or "I've missed running so much."
The weekend officially begins with a get-to-know-you session on Friday. After fitting the sports prostheses, Saturday is dedicated to training under Heinrich Popow's expert guidance, with exercises and prosthesis tips. The day concludes with a group dinner, providing a chance for everyone to socialize. Sunday rounds off the clinic with specialized long-distance running training, culminating in a fun competition.
Conclusion:
The Ottobock Running Clinic 2023 at the Chula Vista Olympic Training Center is not just an athletic event; it's a celebration of human potential, connection, and self-acceptance. This unique experience provides amputees with the tools, guidance, and support to embrace their love for running, build confidence, and leave as part of a supportive community. It's an event where individuals transform from guests into friends, and where the spirit of running knows no bounds.
Follow the link for more information on Ottobock.